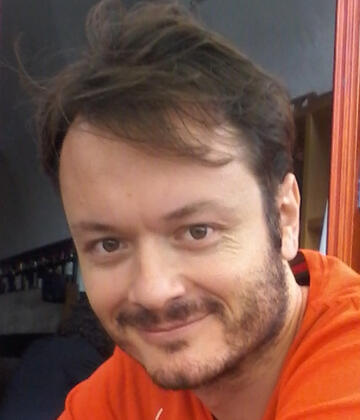 MARIO TOMIć
---
IT support hero by day, asleep by night
✔️ name's Mario
✔️ lives in a computer
✔️ has the brother
✔️ found the princess
✔️ has a castle
✔️ grows mustache
✔️ cycles long distance
❌ knows Luigi
❌ does plumbing
❌ has a strong Italian accent
❌ does drugs when facing obstacles
❌ has issues with turtles
❌ wears overalls
❌ drives a go-cart
#acrossRomania (2018)
---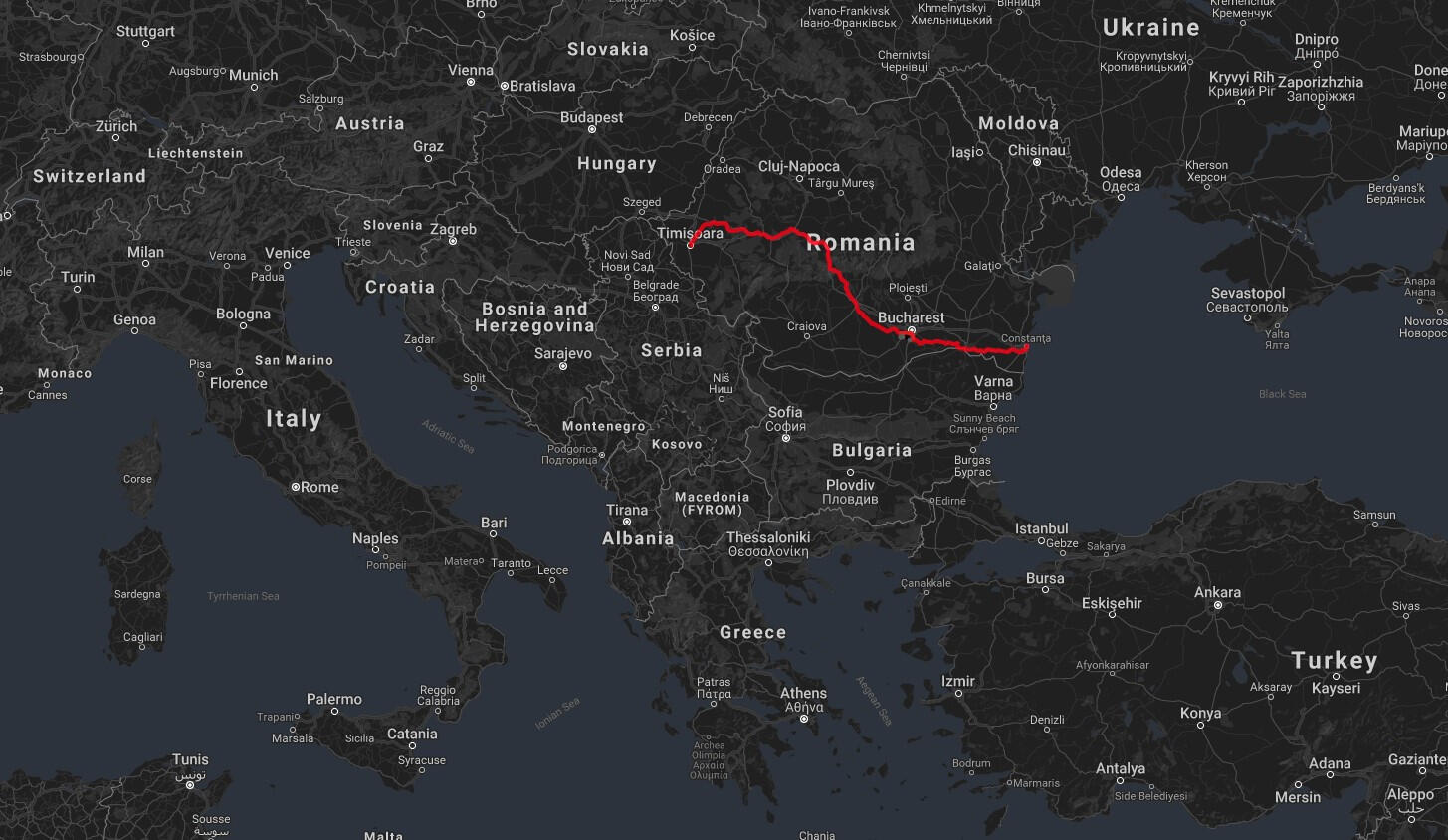 I challenged myself to cycle #acrossRomania alone in order to exercise my Romanian. Also, ever since I saw some Pinterest photos of the old casino in Constanza, I wanted to visit it. And so the cause and the aim of the trip aligned.

P.S. All photos taken with Samsung Galaxy S7 Edge, i.e. a phone.

If you'd just like to browse the most interesting photos, click the icon below to jump straight to the gallery.
---
Day 1
And off we go. Me, and my steel aluminium horse, Tutku.

I'm still amazed that this forest can be found at only a couple of kilometers away from the city center.

However, once outside Timișoara, it quickly became a bit of every cyclist's nightmare, narrow road with heavy truck traffic and steep gutter, remained after they kept layering new asphalt on top of the old one. Once you slide off the road you cannot get immediately back up.
Luckily, most of the traffic ended up taking the highway so I could continue on empty roads, which brought my first baptism by rain on this trip.
Leaving fields of wheat behind, in Timiș county, the road takes me alongside...
drum roll
...fields of wheat in Arad county.
You'd say everything is the same, but, the sun was coming back and the rain gave up.
Some of the highlights were an abandoned Gothic church in the middle of a village (I wonder if one could buy it from the church and adapt for the living?) and a century old houses with bold facades, such as this one.
After cycling #acrossRomania for 70 km I decided I'll pitch up my tent across from an 800-year old Șoimoș fortress. It used to guard Mureș river valley back in the day. Looking forward to the morning view of it. 🤗
---
Day 2
Country roads, take me home...or just away from the village dogs #acrossRomania.
I usually advise to dismount if it's just one dog. It stops barking as soon as it sees your legs. For more dogs a better approach is to spray them with water from your water bottle. It confuses them.
Sometimes, you just have to go with the flow. Be one of them. Blend in.
🐑🐏🐏🚴🐏🐏🐏
I saw Bear Grylls milking a dromedary the other day. He was walking across Kenya and he was thirsty.
Coincidentally, I cycled 100 km #acrossRomania today, and I too was thirsty, so I decided I'll milk a camel...camel bag. I milked it twice. Take that Mr. Grylls!
You know that song where Discovery channel is mentioned...
These two decided to copulate on my saddle bags. Gently blowing AT them did not distract them at all. So, I waited. I always liked flies, but after 15 minutes of waiting for the gentleman on top to wrap it up,it's a whole new level of admiration.
And just 30 m from the exhibitionist couple, there was this mess. The area is rich with bees and beehives, but this here is a telephone pole, looks nothing like a flower. One of them though I'm a threat, but my bike was faster in the end.
I was used to find water fountains and clean streams #acrossRomania, but for the last 2 days and 150 km this was the first one, almost hidden. Next to it there's most likely a grave with XC (could be HC in Cyrillic) and what looks like a WW1 medal.
And only once before have I seen this type of sheltered spring. There are 2 chalices next to it used for scooping water from the well. The spring is covered with a wooden door that protects it from the elements, although the surplus of water is flowing away anyway.
I managed to run away from the rain and avoid it for the most part of yesterday. At the very end of the track for the day, just a couple of kilometers away from the place I wanted to reach the rain caught up with me and I made a mistake in choosing which way to go #acrossRomania.
Sheldon Cooper has fun with flags. Let's have some fun with maps too: Follow the blue track #acrossRomania
1) turn left, wrong way, go back
2) go straight on... The sign says that it's a dead-end towards #5
3) This is not a way, this is a swamp!
4) and this is a cornfield, let me go around it, how big can it be...
It was a big cornfield and not in squarish shape, so I ended up going wide
5) still no sign of the path that matches the track. Even worse, the new unopened highway cut whatever path was there
6) oh, look if I continued straight I could have gone this way in the first place! 🤦
They little path on the right was third time the charm #acrossRomania. Charm that quickly turned into bog.
As I stopped in hesitation the lady on the navigation says "go straight" #acrossRomania. Sure, let me just unpack my canoe!
Water to the left, I'll skip it. Water to the right, I'll skip it.
Middle looks clear!
Nope.
It's turning into swamp after 20 m, just when I thought I can rush through.
The marshy ground reminded me of marshes in Latvia.
So, the idea of me going on dry land and the bike in water didn't work. Mostly because I ran out of dry land.
Let's think out of the box.
What if I go in and the bike stays out as much as possible?
Pig tiiime! 🐷
The plan worked, kinda.
At least my shoes were clean.
But the bike had tons of mud all over itself. The tires would lift it up, the fenders and the frame would scrape it off, then the mud falls into the brakes, panniers, chain, derailleur.
And unbelievably, this little ladybug survived and reached the other side with me. I took the photo before I started going into the water and was surprised to see the little guy still roaming the bike after all the mud and water 😄
And unaware of all the struggle in the mud #acrossRomania were these fellas, a bee, a bumblebee and an ant, all working the same flower.
Today's struggle is nearing to an end. Time to call it a day and find the sweet satisfaction in a fact that another seemingly hopeless situation was taken care of.
---
Day 3
I'm running very low on all batteries #acrossRomania. Tomorrow will ride to Sibiu and merge breakfast and brunch in order to recharge the devices.
And because of what's behind the end of this road here, a decided to make a little detour.
A little wooden church of St. Dimitri, built in 1663. Couldn't peek inside but what little I could see through the window. It was off my track, but when I saw a sign that there is one, couldn't resist.
And this is one of few windows.
This is carved above the entrance. To the best of my knowledge, this is the Romanian Cyrillic alphabet, used #acrossRomania before 1860s. Later Romanians transitioned to Latin alphabet. The entrance is lowered, so you have to bow, symbolically bowing in front of god as well.
The graveyard around the little church is rather new. It's dominated by a family tombstone, that's the size of a small house, much like the ones found in Cemitério dos Prazeres (Pleasures Cemetery) in Lisbon.
And, weirdly as it sounds, I like old graveyards.
It's interesting to see, from carpentry point of view, how they brought the side planks/walls together.
I made it past just another plain village corner when this scene had stopped me in my tracks.
Edvard Grieg's Morning Mood from Peer Gynt was on at that moment and this was it...my moment of zen.
This is how I imagine Eastern Russia in summer. Fields, mountains in the distance and grandmas on quads.
Tried feeding this dog, but she was afraid to come closer. I thought I'll split my meat with her and take a risk by leaving it on the side of the road. Was happy to see her found it once I cycled away.
Oh, speaking of Russia, this photo reminded me of one of my favorite Russian songs. It starts with a man riding his horse through an endless field, just before the break of dawn.

🎤Любэ - Конь (video) and 📑translation.
On a lighter note, some dogs have no shame 😂
So we had something old (that wooden church for example), and now there's something new...and blue.
When you rise quickly from gutter to riches, this is how you show it off.
Wild camping. Gives me freedom to cycle as late in the evening as I want to and an opportunity to choose what I see in the morning.
In this example, a view to the Mureș river.
---
Day 4
So far I've come across blackberries, raspberries, apricots, apples and pictured below red plums.
Catering sponsored by mother nature.
If we fast forward #acrossRomania from the previous wooden church in Hunedoara county, to town of Sebeș in Alba county (both of them in Transylvania), we start seeing more Protestant churches (of which fortified churches are local specialty). This is the Protestant graveyard.
All the fortified churches #acrossRomania were built by Saxons, who initially came to Transylvania to defend the borders of the Holy Roman Empire (German empire from back in the day) from the East in 13th century and they kept coming throughout later centuries as well.
As all the empires ultimately fell apart (the last one controlling Transylvania was Austrian-Hungarian empire), local Germans and Hungarians found themselves encircled in the middle of Romania, where many of them still live.
Every new night spent under the open sky increases our comfort zone.
That feeling of freedom when you can decide you wanna stop here, move 20 m from the road and call it a day!
---
Day 5
"See, not all of us are viscously after the cyclists #acrossRomania. At least not when you hop off the bike. Now, is that a sausage-phone?"
The sheer number of fortified churches #acrossRomania can be seen on this map. 7 of them are on the UNESCO's heritage list.
And around Saxon churches #acrossRomania Saxon people built Saxon houses and ornated them in a distinguishable fashion. This detail is at the eye level, for every passerby to notice it.
On an unrelated note, I believe that most people are inherently good, regardless of their financial or social status.
En route to Sibiu.
Not sure why this one reminded me of western frontier. Because of the train tracks perhaps. Anyway, decided to ride into Sibiu tomorrow morning. I'm camping just outside the city, not far away from Sibiu airport. Sweet sounds of civilization.
---
Day 6
Sibiu is a charming medieval city, but way too touristy for my taste. I tend to look down on the cities that live off tourism as I feel that they inherited a trust fund off which they leech live.
I used the time spent in the city to grab a bite and recharge a dozen of different batteries as much as possible, as well as to stock up on food for the next stretch of road.
Leaving Sibiu you pass by a wooden cross erected to commemorate 1599 battle, after which Wallachian ruler Michael the Brave became ruler of Wallachia, Moldavia, and Transylvania. Victims of the battle were buried in a mass-grave under this mound. This is a close-up fragment of it.
Reaching the Red Tower fortress, built in 1360 by Saxons was easy, although I had to share the road with vehicles, but I'm used to it. What came afterwards, fortified with what's written on the sign on the side of the road just under the fortress, was a nightmare for both me and those coming up behind me.
The sign said that the road ahead is forbidden for slow vehicles and cyclists. I was stuck. I cannot go back, yet I'm risking a lot if I continue. The road is crawling with road cruisers in both directions, going around me is not an option most of the time.

And this is how a good stretch looks like. Half a meter of shoulder, split between tarmac and stone support. And then, stone support would disappear and I was gliding on a foot wide piece of asphalt, looking at the tiny rear-view mirror over my shoulder, trying to recognize if that's a truck or a car coming up behind...and then sprint, go for it, just to pass the next curve, so that the drivers have more space to overtake me.

The road goes along the valley of river Olt, and it's so busy and dangerous that there is an ambulance car on duty, stationed in the middle of the canyon, in order to minimize response time in case of an accident.
The length of this nightmarish stretch is 25 km. One eye on the road, one in a rear-view mirror, looking for the approaching headlights, then anticipate the first gust of wind trying to push you off the road, then the next one, after the truck whizzes by, to suck you in. And I'm dancing with a fully loaded bike on a narrow strip of road, trying not to descend onto the lower lip of the older tarmac, because if I do, exiting it requires me to yank the bike onto the road, into the oncoming traffic.

The most difficult track I ever cycled at. Psychologically draining. 5 km in, I pulled over at a little clearing that appeared out of nowhere, grateful for it, loading myself with sugar and water, seriously considering to ask one of the truck drivers who had a break, to give me a ride out.

To paint a better picture how narrow it was, here's a photo of that road, taken from an overpass, after I've finished the stretch.
The imaginary finish line was just after the monastery of Cornel (named after a plant). That's where a smaller road was meeting this Tron-like highway where I planned to break off and find a place to pitch up a tent. I'd sprint for 5 km, then find a ledge to stop and get back some energy, at times just leaning with my bike against...well, the mountain, to the horror of truck drivers. And amidst all that chaos I passed by the aforementioned monastery and saw a nun, reading a book while standing in a doorway, trying to catch more light, as the rainy clouds were engulfing the the ceiling above us. It was another moment of zen on this trip. 200 m down the road there was a smaller road I planned to take and, for lack of a better word, I felt saved.
Definitely a combination of skill and luck for me and no accidents so far.
Many others were not that lucky. Numerous crosses along the road mark where people lost their lives #acrossRomania. A daily reminder to pay attention while on the road.
I doubt that anything upcoming will be able to compare to a psychological challenge of this stage. The next one will be climbing the lowest pass over Carpathians, but from today's perspective, it will be a piece of cake.

With the Cornet monastery in the background, and a hefty treetop above me, I choose this spot to camp tonight.
---
Day 7
By the seventh day Mario had finished the cycling he had been doing; so on the seventh day he rested from all his cycling.
CycloGenesis 2:2
Truth to be told, I was stuck in that same spot, for a day longer than had planned or liked, under that tree with a lush treetop, because of the rain. I need it to stop so I can dry and pack up the tent and move on.
I went to a nearby hamlet looking for a grocery store and a power outlet. I was in luck, a young girl was working in her mom and pop store and she spoke some English, so I installed myself on their little shop porch, bought some sodas, snacks and candies and started recharging my batteries, literally and figuratively.
When her younger brother came around with some other kids they started drooling all over my bike.
Seeing a built-in digital speedometer, alarm and some other sundries, they assumed it was an electric bike. The inevitable question was 'How much did it cost?' Without thinking much I sad 'One hundred thousand..' at which point their jaws dropped. Wait, shit, what did I just say?! I meant to say one thousand! However, even after I corrected myself, stating basically that it doesn't cost 200, but only 2 average monthly salaries in Romania, my brain stopped floating in sugar and caught up with my mouth talking Romanian. Too late. Wait, fret not, The Brain will take over now!
"Where are you staying?", continued the youngster. The Brain grinned and said out loud "at the monastery", all proud of its improv. God dammit Brain, that's a nun convent! Much theme porn?! (nah, we're keeping it PG, so "The Little Hours"). But the kids were happy with the answer. I mean, it all made a prefect sense. A guy riding a bike, instead of a car, comes through their village, instead of taking the highway, paid his bicycle as much as others pay their cars...him staying in a nunnery is the least weird he uttered in his broken Romanian.

And here I am, sleeping in the open, with my bike next to my tent, during rainy and windy night, during which my bike alarm went off several times due to wind and vibrations...or a chubby kid was stealing my bike while I was asleep! 🤨 And definitely no nuns checking on me! 💃🏻

Oh, mystery solved, there was a dog wandering around, trying to eat an empty can of mackerel. Chewed through the tin lid, poor beast.
---
Day 8
When the rain briefly stopped in the morning I knew it will start as soon as I'm packed and ready to continue #acrossRomania. I wasn't mistaken 😅
Slow climb to the lowest pass over Carpathians took me by some wonderful houses. To paraphrase @cyan, it's a style invented by Ion Mincu, after the Romanian unification in 1918, and it wasn't continued after WWII, as the communists tried to distance themselves from the "bad" interwar period trends.
I found this style really present in central Romania and not that much in western parts, where secession styles, typical architectural remnants of Austrian-Hungarian Empire, prevail. And cities have brutalism in abundance.
It's raining constantly, so I have rain gear on, which makes me steam up easily. But the wonderful lush green scenery makes it worthwhile.
The moss looked almost edible.
The narrow mountain road led me by the monument of ⚔️ the battle of Posada (1330), in which Wallachian (Romanian) army defeated much larger army of a Hungarian king. A little bit more and I should be at the top of the pass.
After this tree, that is torn and unsure which way to grow, the track started going downhill. Muddy, rainy, had to hold the brake very often on my way down, but I was over the mountain. If it wasn't for the rain, I wouldn't find this particular climb challenging at all. After all, with its highest peak (⛰️ Moldoveanu peak) at 2544 m (8,346 ft), crossing the same mountain range at the height of roughly 900 m (3,000 ft) feels almost like cheating. 😊
I was kinda sad though that because of the rain that was following me, I didn't see Moldoveanu in the distance, as I was only 🧭 20 km away from it.
Couple of hours later I was in a clean and dry room of a pension in a town called Curtea de Argeș ("Court upon the Argesh"), after arranging with the landlady in my broken Romanian for my clothes to be washed. Actually, I've asked if they have a washing service, they said they don't, but she said she will do it for me. I guess I was very muddy and wet. This pit-stop will also give me a chance to recharge all the devices as well.
---
Day 9
The morning weather was not promising, and I kept refreshing my weather apps every once in a while looking for a glimpse of hope manifested in rain not falling for an hour or two. When it happened like that around the noon, I was ready to leave the town and cycle towards dryer south.
On the stretch of 40 km, that's how much Pitești, the county capital, is away from Curtea de Argeș, one can find numerous shrines next to the road. This one is a bit specific, hence the photo. Unlike the other ones, this one is open towards the road.
Other shrines are more closed, looking almost shed-like, with the walls inside decorated with icons (think of frescoes, not My Computer), candles, little bench and so on. Families erect them to honor their ancestors and the church blesses them. Often, they would have a well dug next to it.
I stopped to take a photo, peek into the well, but haven't tried the water though. This well is open, which means a lot of dust and specs floating around. Other wells are mostly closed with a lid and they are in front of people's houses.
I ate the plums though ☺️
Another one for you architectural buffs.
Ion Mincu, an architect who was the main promoter of the neoromanian style #acrossRomania, was inspired by the traditional architecture of central Romania.

Nice summary at 📑 Wikipedia, of course.
This is an accumulation lake on Argeș river, just outside of Pitești. There's another one, right after the city. It looked like a great resource and community asset. Places such as these add so much to the quality of life.
Forgive me fathers of architecture, for I have sinned #acrossRomania. I said that I liked Pitești, an industrial city, with nothing much that stands out, more than Sibiu, a medieval town with rich cultural and historic life. The thing is, Pitești had to work on its city center.
Things were not given to the current generation of people living there on a silver platter. They did not have medieval squares, cobblestone streets... yet they turned a boring city core surrounded by brutalist buildings into a living and breathing promenade.
The center is full of locals, instead of tourists, green area felt multidimensional and interactive. Unfortunately, I was not able to capture the spirit I felt, so you'll have to find satisfaction in architectural details 😊
As I cycled just 40 km today, I decided that I'll not stop in the city or around it, but instead continue further down the road.
I stopped here to admire the view...and to rub some alcohol onto a bite mark made by a dog in a village just a half mile away. It ran after me even after the owner shouted that she must not do that. I didn't see her coming and it felt like I was hit with a stone.
There, I've survived it. All I have to do now is wipe off this foam around my mouth. 😁
With 3 rainbows behind me and a storm with thunders in front of me, I decided to stop here, and by chance, it's also the administrative border between two counties (less than a US state, but more than a US county), Argeș and Dâmbovița. Fascination with borders #acrossRomania.
Next stop, Bucharest!
---
Day 10
The road to Bucharest was both uneventful and busy with traffic, once I came closer to Ilfov county, a district-like county around the capital.
One of the two highlights were old, but still operational oil fields.

Romanian oil production is at an all-time low level this year. It's on a steady decline path, but even with that decline they were in the top 30 countries by crude oil production in 2017.
The other highlight was sign with a name of a village and a municipality it belongs to, and they translate to:
"Lower Wheel municipality,
Little Wheel village".
I felt like the third wheel, so I left 😄
---
Day 11 - Intermission Day 1
Time for another short, but active break. Meeting with my family and relatives, exploring Bucharest on foot and, of course, 🔌🔋🔋🔋🔋😄
The city reminds me of Belgrade, Serbia.
I was in Bucharest on another road trip 7 years ago, so didn't spend much time now in the city. Washing clothes and recharging were priority 😅
I liked cycling in the city traffic though, and that usually means I like the city too 😁
---
Day 12 - Intermission Day 2 - Bucegi mountains
Second day of me "resting" we decided to go hiking into Bucegi mountains, part of Carpathians.
It is believed that Bucegi was a holy Dacian mountain of Kogainon, on which a deity called Zalmoxes lived in a cave. We didn't find the cave, but an abandoned chalet, just before descending cloud engulfed it.
Behind the chalet there's a steep path that descends all the way to the little touristy town of Sinaia, in which we saw several chamois (Alpine goats). Unfortunately, they were too far away to get a decent photo, so here's another representative of wildlife #acrossRomania 😁
Even with the height at around 2000 m above the sea level (6500 ft) one can still find rather photogenic flowers, such as this bellflower.
And with such an intact nature, drinking water from the steam? Oh, yeah! Especially when you see a snow cap from where it comes 😅
Did you know there's Sphinx in Romania, older than the one in Egypt? 🤔
It's on the photo here, located on the top of Bucegi mountains, together with another natural monuments, Old Ladies (Babele).
Even though it's a national park area, we managed to collect a bag full of plastic bottles and aluminum cans, some of them lied around for years. The little store on top of the mountain does not have a provided garbage disposal place, even though they're paying for it. #acrossRomania
Time to go down the mountain, tomorrow I'm back in the saddle.
---
Day 13
This is the first time I've seen this approach to beekeeping. Park the hives in a sunflower field 😅
The man is giving a signal to other villagers that it's safe to move cattle across the street.
Families around here have a cow or two and they escort it to and from fields they graze on. Another moment of social interaction for the villagers.
Little control room on an accumulation lake outlet. One of many lakes and ponds before the channel finally flows into Danube.
And just across the road from the accumulation lake there's a Gypsy family makeshift settlement.
They saw me snapping a photo and they protested very vocally 🙄
I didn't want to stay and explain the principles of photography in public places.
After cycling for almost 120 km today, driven by desire to reach Danube, I was looking forward to sleeping on its bank, but it turned out that the bank is rather inaccessible (for a two wheeler at least). A kilometer of swampy forest separated me from even seeing the river. So close, yet so far away.
---
Day 14
It's so easy to camp #acrossRomania. I was woken up by a sound of a truck slowing down, surprised by my tent, then they just continued 😅
I met them an hour's later on their way back, tree loggers.
I'm just a couple of kilometers from the ferry, but the path became almost impassable, tractor tracks retaining water, little muddy swamps, through which I try to rush, only to end up whipped by scratchy branches. Sweaty skin reacts as if I touched poisonous ivy and starts itching.
As Danube is close and a lot of swampy ground, the mosquito symphony on the outer layer of the tent last night was terrifying.
With the daylight some other insects came to say hi. This monster was 2 cm (almost an inch) long.
Close to the city of Călărași there's a ferry that can take passengers across Danube, either to 🇧🇬 Bulgaria or to 🇷🇴 Romania. As I wanted to reach Constanța and Black Sea ASAP, I decided to skip visiting Bulgarian city of Silistra.
The ferry is free for passengers and bicycles.
The paved road is in Romania, the unpaved one as well. But the buildings in the background are in Bulgaria (town of Silistra). A border fence runs at some places just 10 m away from the buildings and is often being masked with thick foliage.
The south of Romania is poorer than the north. But it also seems that people living there are not doing their best to take care of their "home". Garbage everywhere and this was not an isolated case.
The last leg of the trip took me through a history-rich region called Dobruja, today split between Romania and Bulgaria. Throughout its history it's been ruled by Gets, Greeks, Romans, Byzantines, Bulgarians, Mongols, Wallachians, Ottomans and finally Romanians.
Its rich history reflects the best in this monastery building. You could put it in so many contrasty geographic locations and still find that it blends nicely.
Another thing that's present in abundance are the hills.
Every cyclist is in a love-hate relationship with them.
Met a new friend when stopping to cool down and have a lunch break. I gained her trust with salami. She was moving in closer and closer, ending up eating from my hand, but in a such calm way, unlike other dogs I met, that I enjoyed feeding her more than having lunch myself 🐶❤️
Here I also met an older German couple on a tandem. Caught up with them in the next village. The summer shower caught up with all of us while we were in a village shop. When the rain stopped they decided they will stop at the edge of the village in a cyclist-friendly camp, but I figured out I could push some more before it gets dark...or rainy again.
The monastery of St. John the Baptist in Lipnița wonderfully wedged between a village and fields of sunflower.It's relatively new monastery, so I didn't stop by it, but looking back and seeing the view #acrossRomania makes me appreciate the fact that I'm not traveling by car.
Now that I'm just 81 km (50 miles) away from Constanța, the idea of reaching it tomorrow is not unjustified. I perched myself slightly above these sunflowers, with a wonderful view to crop fields, some church in the distance and a road that separates us.
---
Day 15
When thinking about the day ahead I thought the highlight would be finally reaching Constanta, after I drop by a nearby monument I was told to check out. Sure, let's do it!
If I had only realized last night how close I was to the ruins of this ancient city, I would have cycled that extra mile #acrossRomania and made my camp inside the city walls.
Welcome to Civitas Tropaensium! This castrum (military camp) became a city within a century.
The settlement was founded by emperor Traian and initially inhabited by Roman veterans of the Dacian Wars which ended in 106 AD.

Fan-fact: Before the battle of Tapae (101 AD) the Dacian tribe, the Buri, sent Traian a message saying that he should withdraw from Dacia and restore peaceful relations. The message was in Latin, inscribed on the smooth top of a very large mushroom 😂
Emperors Constantine the Great and Licinius rebuilt the city in the 4th century and it became an important religious center with several basilicas in the city. Here is what remained of The Simple Basilica. Walking between those colonnades felt out of this world.
Civitas Tropaensium was at its highest in the 6th century, when it was a bishopric, but later in that century it was sacked by the Avar tribes and stopped being an important city of Dobruja region. Today, it's abandoned, there are no admission fees.
Another thing that excited me as much as the colonnades in the basilica is the sanitary channel which ran across the city and collected all the waste water, mixing it with running water and taking it out of the city. #acrossRomania

Bonus: Barcelona was initially a Roman castrum.
Some 2 km away from the fortress, in 109 AD, emperor Traian built a monument, called Tropaeum Traiani (Traian's trophy) to honor the fallen Roman soldiers (don't mix Roman and Romanian) and also to warn any neighboring tribe to stay away from just conquered province.
Behind the monument there is a mound, tumulus, a burial site of a fallen Roman general. This is the view from the top of it. Unfortunately, there's nothing much to see at the mound, at least not to my untrained eye, so back to the monument 🤔
Tropaeum Traiani monument was reconstructed in 1977, as by that time it turned into a pile of rubble, with the metopes (squarish elements depicting various elements of Roman army) scattered around it.
Here you can see some original parts of the monument exposed.
The original elements of the monument are preserved in a museum in a nearby town of Adamclisi. The monument was devoted to the Roman god of war, Mars.
The admission to the ground around the monument costs 10 Lei (2€ / ~$3).
I had luck to come across an old tour guide there who told me that in the middle of the photo here, in what look like battlements, there are prisoners of war shown, Dacians in skirts, Sarmatians in tunics and Germanic tribesmen in trousers.
Fan-fact: Dacian campaign was the only known instance when the Roman legions had to make adjustments to their equipment during the campaign. Dacians #acrossRomania used a curved weapon sharp on the inside, called falx, which could cut through Roman armor.
No matter how much I'd like to stay and soak the atmosphere at the Traian's monument, the weather forecast said there will be rain showers, so I reluctantly started cycling...only to be greeted by the first outpouring. I have rain gear on, but I still seek a shelter under a tree.
And every time the showers would get tired and stop, the scenery would become so contrasty and so beautiful, that even just throwing a camera in the air would lend you a great shot. The report says there's no rain in Constanța, so I'll continue and endure the rain.
Getting closer to Constanța, still raining, but also the traffic increased.
Trucks are the worst. They go around, but still shower you with so much water that my face is all muddy.
Scratch that, garbage trucks are the worst. They wash me with stinky water 😫
Stopped briefly in Medgidia, for a bite. Romanians have their own version of kebabs called, mici, which means 'smalls', and they are the biggest kebabs out there 😁
And this is Danube-Black Sea channel in Murfatlar, carved in the rocky hill looks impressive.
Entering Constanța, the oldest continuously inhabited city in Romania. Founded in 7th century BC by Massagataen queen Tomyris, who named the city after herself, Tomi. The first urban settlement in this region was however Greek city of Histria, 40 km (25 miles) from Constanța.
Cycling through Constanța wasn't a really pleasant experience. As if all the roads were leading to it, and all the cars and trucks decided to go into the city at the same time. I reached this random point and saw it, the building in the background.
When planning where to finish this tour, Constanța and its casino were the obvious choices. I fell in love with that building ever since I saw it for the first time somewhere on the internet.
In the current form since 1910 it worked as a casino for only 38 years.
It was called Romanian Monte Carlo and it has always been the symbol of the city. It was damaged in every world war and rebuilt afterwards.
With the communist regime in power, it ceased to operate as a casino, and since 1948 it served as a house of culture.
Built in Art Noveau style by 32-year old Daniel Renard, it was a sore point for the entire political opposition and conservatives back in the day, who wanted something less extravagant and in popular Neo-Romanian style, which was featured in many of my photos.
And so, after 12 days of cycling (rest days not counted) and after exactly 900 km (560 miles) I reached the promenade in front of the iconic casino in Constanța.
I was so happy with the casino milestone that I didn't even consider staying longer in the city 😁
I spotted a place where I could urban-camp and rushed to the train station to check if I could exchange my train ticket that I had bought in Bucharest for a train leaving tomorrow, for the one leaving tonight. Sure enough I could. I left the city as fast as I entered in it.

The ease with which I called it the end just reaffirmed Emerson's words, that it's not the destination, it's the journey.
---